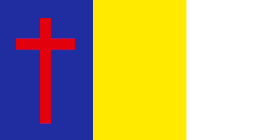 Confederate Principalities
Motto:
 ????
Anthem:
?????
Demonym:
Confederates
Capital:
Angreboda
Largest Planet:
Angreboda
Form of
Government:
Elective Monarchy
Leader:
Sidartha Salissar
Governing Body:
General Assembly
Established:
2881
Territory:
5 stars
Population:
6 Billion
Currency:
Euref
The Confederate Principalities (Also known as the Principalities or the CP) are a loose confederation of human star systems. They are united by a common over government but are free to pursue their own affairs outside of mutual defense.
The Confederation was formed in the wake of the Dark Age, after various star systems that once belonged to the Centauri Confederacy and other, small states formed a defensive union in order to maintain their independence from the more powerful nations, which had begun a campaign of aggressive expansion following the collapse of the previous nation-states. It is the third largest human nation in the galaxy.
Etymology
Edit
The nature of the union of worlds and their style of government gives the Principalities their name.
Government
Edit
Foreign Relations
Edit
Infrastructure
Edit
Demographics
Edit
Territory
Edit